Yes I am counting down to Survivor! Its been a long dry tv summer LOL.
I'm bored, my head isnt hurting but almost, like it cant make up its mind. My head cant make up its mind haha thats FUN-NAY. We say FUN-NAY like Forrest Gump says JEN-NAY.
Today I am dragging winter clothes out and making huge piles for my kids to try on tonight. They'll have a fit.
I have oh about 3 thank you notes to send to people, 2 birthday cards and a sympathy card and Amy at the
Calico Cat
wants me to mail her some kitty fabric SO I need to get crackin on that too.
ALL I REALLY WANT TO DO IS GO OUTSIDE AND WATCH THE BIG FLUFFY CLOUDS FLOAT BY :) The walnut trees are already loosing their leaves. Me and Hawger watched them floating down today-looked like golden snow I told him. Only well you know what golden snow REALLY means HAHA ANOTHER FUN-NAY. ;-)
Just got in from Hawger getting on the bus, Mr Watkins across the street shot a squirrel with his 22 right in front of us @@ He use to be a taxidermist and he has tableaus set up all over his house of squirrels in airplanes, playing poker, etc. He is old as dirt.
Well here is the SPIDER WARNING SPIDER PICS BELOW-
This is Miss Spider, a female yellow garden spider. We've been watching her every day! We got to see her do a Shelob on a poor little Frodo-esque bee, if you look closely you can still see his stinger out! (Those are Lord of the Rings references for you non-Tolkien'ists lol)
Pretty neat huh? :) These are both of her from the bottom, I'd like to get her top =)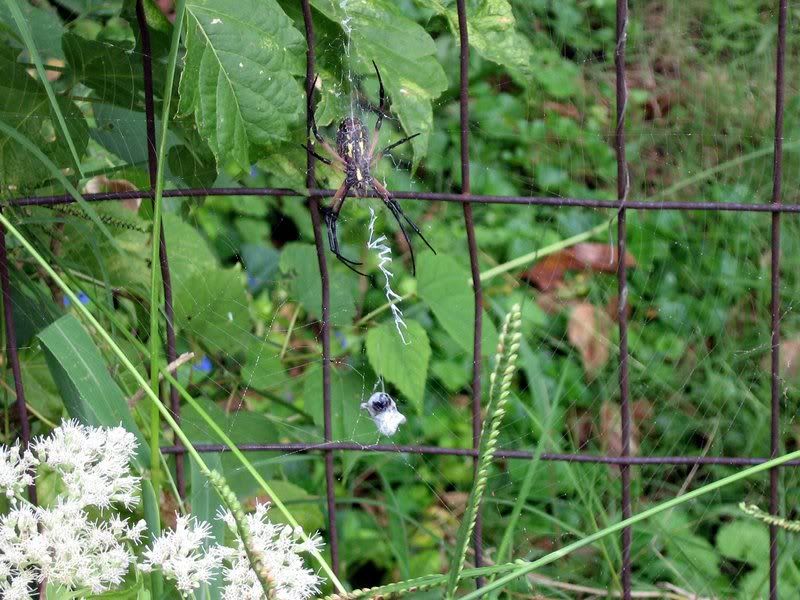 Have a great Thursday! Come back tomorrow and we'll discuss Survivor ;-)
Gratitudes:
FALL WEATHER
Cool breezes
No a/c needed
Fair week (tomorrow is Hawgers day :)
Dove Dark Chocolate
xoxo melzie