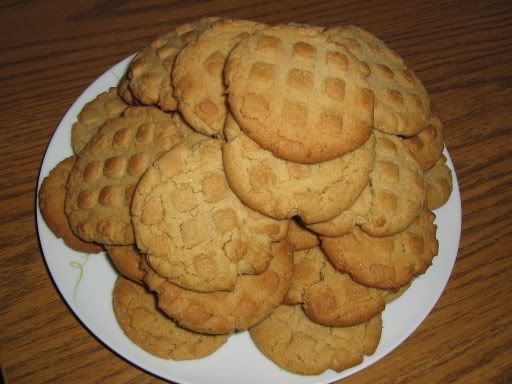 Melzie's (OK I admit Betty Crocker lol) Peanut Butter Cookies
1 c. sugar
1 c. brown sugar
1 c. shortening
1 c. peanut butter
2 eggs
2.5 c. flour
1.5 t. baking soday
1 t. baking powder
Mix sugars, shortening, peanut butter & eggs. Stir in flour, baking soda & baking powder. Cover and refrigerate aprx. 3 hrs.
Heat oven to 375*, shape dough into balls, press with a sugared fork. Bake aprx. 10 min.
*Melzie's hints:
DO chill 3 hrs! I use to try to add more flour to get done faster and it doesnt work :)
Instead of a fork, I use my potato masher! Works well, looks good and is faster.
Let sit on the baking sheet a few minutes, this will prevent crumbling.
To get that gorgeous bottom, use non stick pans and do not grease.
Enjoy, if you make them drop me a line! I am off to try a practice binding, wish me luck :)
xoxo melzie