Just sharing my KISS impersonating cat. Isnt that hilarious?
Here's a more normal looking pic of Sassy whom I think is now growing such as to not be named Sassy but something more like Manny
And my lil brown eyed boys with sweet lil grins :)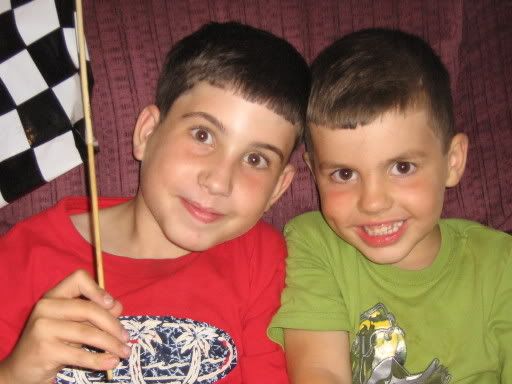 Well I've been doing some quilty stuff. I got Hawger's quilt top done, waiting for a batting sale to come along now. I have a lil pretty girly baby quilt about 1/3 machine quilted. Still not bought any fabric :) There is a booksale at our library today I am going to go check out though. I started a new photo blog, if you want to drop by here is the link
Melzie's Fotologue.
I think I've also got where you can go to my profile and find both blogs.
Funny of the day~The other day while endlessly cruising thru walmart parking lot for the perfect spot., we spotted an older (very) lady who was aimlessly wandering around. I said OMG she looks just LIKE the where's the beef lady (hat, dress etc). Hubby said "want me to roll down my window and ask her WHERE'S THE CAR?" I LOL'ed :) My kids of course did not get it LOL.
Gratitudes~
a/c
coffee
bible schools
fall (soon!)
digi cams
xoxo melzie